HOW TO MANIFEST A NEW VEHICLE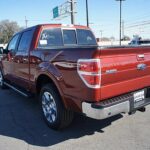 Most of you have the desire to manifest big things in your life. You may want a good job, a fantastic family life, more money, a home or vehicle. In the previous manifestation blogs I have given examples of smaller, attainable things. The reason for the smaller items was so that you could begin manifesting things into your life that would take only a short amount of time. As your successes grew so would your belief system. The more you could believe that you could manifest the easier and quicker things would come into your life. Today I'm going to tell you about the truck you see in the picture.
Last fall (2013) I was window-shopping at a recreational vehicle dealership. I was looking primarily at travel trailers. As I looked, I was getting a little bored until I set my eyes on the model that was absolutely perfect. It had an island in the kitchen and a separate bedroom and a huge pantry for my cooking stuff. There was one problem. It weighed too much for my present truck to tow. In order to purchase the travel trailer I needed to upgrade my truck.
Did I desire the trailer so much that I would get a new truck? Well, my current truck had 150,000 miles and counting (currently 158,000). My desire to upgrade my travel trailer put things in motion to make that happen. I had to decide what type of truck I was going to buy that would tow this new travel trailer. After researching, I decided I wanted the new Ford F–150 with the Eco-boost engine.
I have spoken in my book, "Christianity, The Law of Attraction and The One Command," that when two or more people manifest together they will accelerate the process. In May, 2 friends joined me at the campground for a manifestation weekend. We each decided on two things we wanted to manifest in the next 6 to 9 months. My first choice was the truck and the second was a male companion.
We each talked about what we wanted or something better and visualized what we would say to each other when we got what we requested. The method for manifesting we used is called the mental video technique from the "Silva UltraMind" training. Whenever we found we needed a quick change because we either saw something better or we gained more clarity we employed "The Prime Directive" (explanation coming soon) which is quick and to the point.
Months were passing. I test drove the truck at many dealerships, got pricing and still the desire to purchase the truck was not there. I kept feeling the time was not right. In the meantime. . .

DATING

I also was going on a lot of first dates, some second dates with absolutely no connection with the gentlemen. I was beginning to think I had lost the ability to feel a connection with anyone.

As they paraded before me I would come home and program again telling Higher Intelligence what I liked about the person and what I didn't like. Each time I was refining my idea of what a great compatible partner looked like. I always added that I needed to be their ideal partner and my qualities would be beneficial to their desires. We had to be a mutual match. I was very careful about what I visualized and asked for because I know it will show up.

As I stated time passed and nothing was happening. I began to feel that I was not who I said I was. How could I teach you to manifest, if I wasn't?

In late October, I joined a new site for making friends and dating. Within a few days I met a gentleman who lived in the next town. We arranged to meet for drinks and a meal. We talked for over three hours. When he touched my hand a shiver went down my spine. We had a lot in common from our IT computer background, to earning money from home, enjoying plays and many other things. For the first time in three years I felt a connection and he the same. I had finally met someone that I could appreciate, edify and respect. He is AWESOME. For now I will call him Mr. Wonderful. This part of the story is still in progress; updates in the future.

BACK TO THE TRUCK

Also in late October I went to yet another Ford dealer looking for the truck. However, this time was different. I got a very clear vision of what I wanted. I met with the saleswoman and discussed vehicles and options as well as colors. While she was working on her computer a picture of a 2002 Ford Thunderbird appeared on the screen. I saw the retail pricing for it and asked her what it would fetch as a trade-in. We never got the trade-in number. However, I believe that this was an indication from Higher Intelligence that it was time for me to release my Thunderbird to someone else. I decided that day that I would possibly trade it in.

I got a call from the dealership survey department the following week. The gentleman asked me if I was serviced well while I was at the dealership and he was sorry that they were not able to help me at that time. He then proceeded to ask me for what I was looking. This was when I got totally clear about what I wanted.
I told him I wanted a new or used Burgundy Red F-150 with the Eco-boost engine, XLT package number 302A or better with less than 30,000 miles. The 302A package includes the tow package, backup camera, integrated brake controller and other goodies and I wanted this for $XX or better. He said we will look for it for you.

When I came home after that visit to the dealership I considered the trade-in and I'd then said that I didn't want to spend more than $X out-of-pocket. In this short amount of time I set a number for how much the truck would list for and how much I was willing to pay after the trade-in. I waited and waited with no desire to look again. I trusted that this last dealership would find me what I wanted.

The advertisements for Black Friday came. My desire to have the truck gained momentum. I saw the commercial where a neighbor said "I saved hundreds." The other neighbor looked at his car and said, "I saved Thousands."
I was taking a trip in two weeks and I didn't want to drive my old F-150. I wanted the new truck. In the meantime, the Thunderbird started missing and one morning it wouldn't even start. This was another sign to me that it was time to let my baby go. I really desired and wanted my truck NOW.

I was guided to go to a particular Ford dealership that I had never been to before on Black Friday. I met Carlos. He showed me exactly the truck that I wanted online however it wasn't in stock but they could get one once the deal was made. I asked Carlos what they would give me for my Thunderbird. He gave me a number even though I didn't have it with me. I left telling him that I would let him know tomorrow.
I contacted a friend of mine who would tell me the best trade in value that my car would fetch based on auction prices. I then called Mr. Wonderful to ask his advice. He found his friend who was a former salesman who just happened to be driving by the dealership I had just left and he stopped in to get some information from a colleague.
The next morning Carlos called me and I told him I would see him later. While talking to Mr. Wonderful I was given the idea to ask him to be my man at the dealership because I didn't negotiate very well. In the meantime he had talked to his salesman friend and found out what the best numbers would be that would constitute a good deal. I was on a roll.

When we met with Carlos, he told us that he could find me the Burgundy truck. However, they had another truck on the lot that had been there for while and he could make a better deal with it. The only problem was the color. The color was Sunset Red and would that be okay with me. He brought the truck around and I saw that the color was perfectly fine. It wasn't a fire engine red. This truck had everything plus leather seats with center console, updated headlamps and fog lights. It was better than the one that I wanted, with the discounts it was $238 more than the $XX number I had set and $2000 less than the Burgundy one.

Needless to say, Mr. Wonderful was totally awesome in the negotiations. He displayed on his phone the price that we were willing to pay including tax, title and license. With a little back and forth we actually wound up paying approximately $1000 more than the $X that I had stated that I wanted to spend out-of-pocket. However, the story doesn't end here. I am selling my old truck to my daughter who is selling her truck and will give me $1000 from that sale. Therefore, I will only have $X out-of-pocket for my new truck. I got a better truck than I programmed for at a price I was willing to pay.

So what is the take away from this story?
Be totally clear about what you desire. Details are always better.

When desire increases the means to the request will come. Fervent desire. I didn't have a feeling of lack, or a feeling of want, I just had the desire to have the truck for my trip.

Follow the inspired actions that you feel compelled to do as they appear.

Be totally grateful for everything that comes into your life.
Oh, BTW, when I got my truck. I called my one manifesting friend and I texted the other. I was driven to say/text these words "I got my truck." I had completely forgotten and they reminded me that those were the words we had programmed for me to say when the manifestation was complete.
Every day as I drive my truck, I am thankful and I say out loud:

"As you have believed, let it be done for you." Matthew 9:29
And It is so!
Go to the "Manifestation Log Category" of this blog to see more examples within my life.

If you are new to this site take the time to read my blogs especially on visualization and meditative prayer
they will be helpful to you in understanding the process of asking and receiving in thanksgiving.
Do you have the faith to know that your prayers will be answered? Would you like help in learning how? Join us for Commanding Your Life Circles the first and third Thursdays of every month. To sign up go to http://meetup.commandingyourlife.com.

Click on free download to get a meditation to help you learn to visualize in the best way.
In Gratitude,
Beverly Fells Jones,
The Silver Fox of Consciousness,
Specializing in Releasing Your Roadblocks to Success
The Colony, Texas
email: beverly@commandingyourlife.com
Visit my websites at:
http://CommandingYourLife.com
or
http://SilverFox.SilvaCourses.com