Journal – Manifesting The Life You Want, Request to Manifest and Manifest to Request.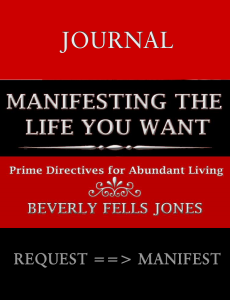 How can you know where you are going without a map? How will you know if you are successful if you don't know what you have achieved? An American known for revolutionizing the manufacturing process, especially in Japan, W. Edwards Deming said, "You can expect what you inspect."
The best salesmen in the world track their progress. The greatest scientists and mathematicians have notebooks which document in detail all of their experiments. In order for you to succeed at manifesting the life you want you must track your manifestations and unintended creations, otherwise they slip by unnoticed. Write in a journal to keep track of your requests and manifestations.
Welcome to the Journal page for the companion book "Manifesting The Life You Want" available at
Some people may feel strange tracking blessings, however you do it all the time; you just don't write them down. When you talk about being blessed with something specific, you're keeping track. When you say, "it must not be my time" or "I've been waiting," you are keeping track.
To help with your manifesting record your thoughts, actions and the result. When you do this you will begin to recognize if what you are doing is really causing things to show up in your life. Actually, you have always been successful in manifesting; you just didn't understand what you were doing or that you were doing it unconsciously.
I have created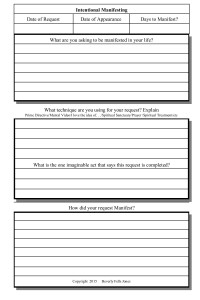 a journal to make it easy for you to do this.   The journal has three sections. The first is from Request to Manifest. When you record the pertinent information associated with the request (date asked, date received, directive and how it was received), the journal allows you to track accurately what you have asked to receive.  There is no more guessing.
The second section allows you to record daily what you are grateful for in your life.  Practicing gratitude is essential to creating the right atmosphere for receiving good things into your life.
A bonus section called "Manifest to Request" allows you to write down what showed up in your life as well as what you may have done or said to cause it to be there. This is the opposite of when you deliberately make the request and then wait for the manifestation. The pages of this section have the title "Unintentional Creations or Ignoring Intuition."
The journal comes with detailed instructions.