As You Believe (transcript below)

Napoleon Hill, the author of "Think and Grow Rich" said "Whatever the mind can conceive and believe, it can achieve." You have a belief about everything. If you are experiencing limitation, struggle, or hardship in a relationship, having money, your career or your health take the time to examine your beliefs.
Your current situation in life is a dream that has been made visible. The way you think and the beliefs that you hold dear orchestrate what comes and stays in your life.
I want you to dream and dream big. Dream as though your life depended on it because it does. Begin to imagine in detail what you want your life and circumstances to be like as though time, space and money was limitless.
Without the help of any public or private institution or person, you can possess and become independent, abundant and filled with happiness. Or you can lose everything and become dependent upon friends, family and the government for your food, water, shelter. Which would you prefer.
In either case you can enter the conscious, emotional, and mental state of the thing you think about the most. You can choose abundance or poverty. You do this my occupying the state you most desire. You may be asking, "What does she mean by occupying the state I most desire?"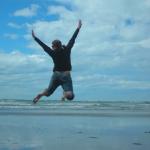 Mark 11:24 says, "Therefore I tell you, whatever you ask for in prayer, believe that you have received it, and it will be yours."
Suppose you have the desire to become an award winning artist. You start by asking yourself several questions. The questions are not concerning how to go about becoming the artist because this in the far future. The fact is tomorrow and the future never comes. You want to be in the now.
Therefore to become what you desire, adopt the state of your wish fulfilled. Ask yourself how you feel as an award winning artist. Imagine what you would see, hear, touch, and experience as an award winning artist known all over your county, state or the world.
Clothe yourself in the reality of this state you created in your imagination. Remain in this state until you feel as though it is real.
One afternoon I was at my dining room table thinking about what I desired to do. All of a sudden it was as though I was thrust back into my body and I was sitting at my desk. You ask what happened. I had been sitting at my desk all the time however my imagination was so intense that it actually felt as though I was sitting at the dining room table doing the task I imagined. I realized, at that moment, that this is what it feels like to be in a state in which your wish is fulfilled.
In this example I entered the state unconsciously not deliberately. You want to live your life consciously creating not by accident. I invite you to dream magnificently. Even though it may seem impossible, allow yourself the pleasure of feeling as though it is true.
Ephesians 4: 22-24 22 You were taught, with regard to your former way of life, to put off your old self, which is being corrupted by its deceitful desires; 23 to be made new in the attitude of your minds; 24 and to put on the new self, created to be like God in true righteousness and holiness.
In regard to your old way of thinking put off the old beliefs because they are corrupted and hold you in the bondage that says you are not able to accomplish your dream. Be made new in the way you think and put on the new self as in being the award winning artist. Think of yourself this way and the Creator of the Universe will find a way to make this a reality.
---
If you are new to this site take the time to read my blogs especially on visualization and meditative prayer they will be helpful to you in understanding the process of asking and receiving in thanksgiving.
Do you have the faith to know that your prayers will be answered? Would you like help in learning how? Join us for Commanding Your Life Circles the first and third Thursdays of every month. To sign up go to http://meetup.commandingyourlife.com.
Click on free download to get a meditation to help you learn to visualize in the best way.
"As you have believed, let it be done for you." Matthew 9:29
And It is so!
In Gratitude,
Beverly Fells Jones,
The Silver Fox of Consciousness,
The Colony, Texas
email:beverly@commandingyourlife.com
Visit my websites at: http://CommandingYourLife.com or http://SilverFox.SilvaCourses.com