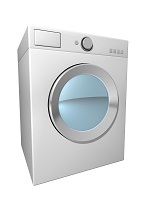 Several months ago my washing machine would stop spinning and then it would start. It finally gave out. It is only 5 years old. I called in my service man and he gave me the bad news that it was the computer and would cost several hundred dollars to replace. I told him to hold off because I didn't like the way it cleaned and I would get a new one.
In the meantime I began going to the laundrymat to wash and brought my clothes home to dry. Well, about two months later the dryer motor decided to give out. At least it was over 20 years old. Again I decided to go to the laundrymat to wash and to dry. I stopped at several stores looking at washers and dryers but I saw nothing that I wanted. I finally did a "One Command" asking for a washer and dryer at a price I was willing to pay.   "I don't know how I have a washer and dryer at a price that I am willing to pay.  I only know that I do now with the help of the Holy Spirit and I am fulfilled."
One week after making the request and fogetting about it I was sitting with a friend and something promted me to tell her about my washer and dryer. Her words were "when we decided to remodel, one of the first things we replaced was the washer and dryer that came with the house. They are sitting in my garage. You can have them."
I will be going to pick them up this week and my repair guy is going to do the once over on them.
When you believe enough to ask and step back from the situation, amazing things can happen.
According to your faith will it be done to you" Matthew 9:29
And it is so!
In Gratitude,
Beverly Fells Jones
The Silver Fox of Consciousness
For information about our programs,
please contact us at info@commandingyourlife.com
or Call 484.809.9017
Visit Us   www.commandingyourlife.com