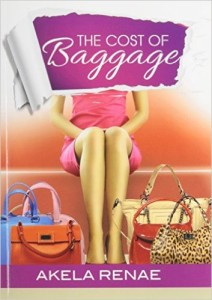 The Cost of Baggage
by Akela Renae
I picked up this book at the Ultimate Women's Expo in Dallas when I visited Ms. Renae's author table. It sat on my desk for several weeks while I read several other books. My preconception was it would be a cute love story. The book is a novella, which means short. It is small in size and in the number of pages however it is packed with a wonderful story.
I took it on my camping trip and at a lull in my activities I picked it up and it had my attention from the very first page. I read until late in the night and picked it up first thing the next morning. I made breakfast and read through lunch.
This is much more than a love story. it is a story about choices. it is a story about finding oneself and it is a story about what you desire could be right in front of you. It covers a short period in the life of Monique Daniels who has a rewarding career is a mover and shaker in the company. She has been pining over one man and is carrying another man's child. The baggage Monique is carrying may cause her to lose the very thing she seeks.
I have spoken with Ms. Renae.  Watch for her to be on the "Commanding Your Life" Radio show on August 17, 2015.  If you miss the show, don't worry it is recorded. Click here to listen to Commanding Your Life Radio