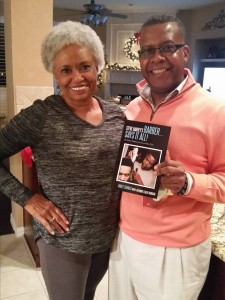 Steve Harvey's Barber . . . Says It All!: An Extra Ordinary Look at Hair Care
On Christmas eve I went to Keller, TX for the annual gathering at my cousin Brenda's house. Her daughter Diondra had just gotten into town as well as a long time friend of Brenda's from Michigan.
What was memorable this night was that I also had the opportunity to meet Steve Harvey's barber, James Thomas. If you don't know who Steve Harvey is then click here to find out.
James is too cute. It's a shame he is so young. Anyway when I heard he wrote a book my ears perked up. I got a picture of him holding the book so that I could order it from Amazon after I got home.
I downloaded and finished James Thomas' book in one afternoon.  It is in his words "extra ordinary." The book isn't just about hair, it is about commitment, perseverance, pride in one's work and having good business sense.  It is about being motivated to be more than the best you can be and how doing "extra ordinary" things will reap rewards.  This is an easy and interesting read.  It was well worth the three hours of my time.
There are many great lessons in this piece.  In Chapter 11 James says, "The extra effort that you must put forth throughout your career does have its rewards.  These rewards are byproducts of your success.  You will be given opportunities and a freedom that you otherwise would not have."  This is so true and James demonstrates this concept with examples and quotations throughout the book.
"Steve Harvey's Barber Says It All" is about hair and yet it isn't. It's about living a life doing things in an "extra ordinary" way.    Two thumbs up for an inspirational  and well written book.
Here is the synopsis from Amazon:
"Steve Harvey's Barber Says It All (An Extra Ordinary Look at Hair Care)" is a motivational tool for hair care industry professionals and it is a short autobiography that reveals the impact the Steve Harvey has had on the author's career and his personal growth. It gives the reader a broad view of the hair care industry through the personal experiences of the author. The book highlights a 12 step action plan for industry professionals that can help them achieve greater success in the industry and at the same time it also highlights areas of improvements for the industry as whole. Although the author targets hair care industry professionals, the self-improvement techniques that he presents in this books can be adopted by professionals in any field.