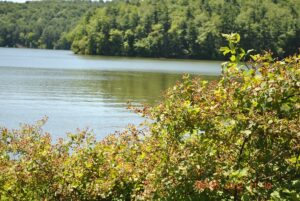 June 13, 2012 12:30 PM EDT
US Highway 250 West next to Tappan Lake.
So many times we are such in a hurry to get to where we have to go, that we don't notice the world around us. Today, I am driving from Penn Hills, Pa (a suburb of Pittsburgh) to Westerville, Ohio (suburb of Cincinatti). In the past I have taken I-79 to I-70 because it is direct and fast. However, I now use my I-Phone GPS system and it found a shorter route using US22 to US250.
I am having a beautiful drive because US22 is an excellent limited access highway. Unfortunately US250 is a 2 lane, learn how to pass again, road in the country. As I was coming through W. Va. a driver blocked my passing a slower truck and I became agitated. He was in the passing lane and would not pass or move over for several miles. I finally got around him and the truck. I realized a few miles later that I had no where to be and no deadline (being retired, self-employed and a writer helps 😉 ). Why was I in such a hurry? It was time to slow down, mentally and physically.
As I continued on US250, I began to notice being in farm country and the beauty of the land. There is abundance all around us, every where, if we just take the time to look. As I was about to pass a truck on this road, I saw a place to pull over and look at the lake. I am glad I did. I was able to take some wonderful pictures and I also found blackberry bushes. Lots of them. The berries won't be ready to pick until late July or early August. Seeing the lake Stendra and the berries made me put pen to paper (literally) because the computer is put away. I am using my favorite purple fountain pen.
I love being in the northern states in the summer. At this moment, I hear the birds singing in the trees; the sun is shining brightly and the temperature is about 70 degrees. The earth is a bounty of various shades of green, with purple, white, gold and orange flowers scattered throughout the area. The wind is gently blowing through the branches of the trees which surround me, allowing me to relax and let go of the tension that affects me each day.
Did you know that the sun looks differently in the North, as opposed to the way it appears in Dallas. It has more orange tones here. In Dallas, it is just a bright yellow white ball in the gorgeous blue sky. I can only suppose that it has to do with the angle with which it shines to earth in each of these places.
I am not totally away from civilization because US250 has a lot of truck traffic. I can only guess it is a major commerce route here in Ohio.
Well, I have taken a good break from the drive and now it is time to go back on the road. Next time you take a drive go away from the interstate and pad an hour or two to your trip. Slow down and see what a wonderful bountiful world is around you.
"as you have believed, let it be done for you." Matthew 9:29
And It is so!
In Gratitude,
Beverly Fells Jones
The Silver Fox of Consciousness
For information about our programs,
please contact us at info@commandingyourlife.com
or Call 484.809.9017
Visit Us