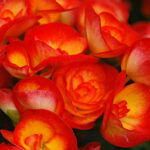 It is the start of the summer season here in the Dallas/Ft. Worth area. Long ago it was time to clean up the yard, plant vegetables and flowers and trim the hedges. I am a little behind this year.
Last weekend (5/12/2012), I finally decided it was time to get my yard cleaned up so I bought weed blocker, mulch, and potting soil. As I looked at flowers, I felt that the price was too high and decided to wait. My yard has lots of trees therefore I need flowers that do well in the shade. My flowers of choice are Impatiens and Begonia's. I went to my favorite store where they have a wide selection of flowers and bedding plants. After looking at the variety available and the pricing, I again decided to wait. I stated The One Command: "I don't know how I have beautiful inexpensive flowers for my yard. I only know I do now and I am grateful and fulfilled in the name of Jesus."
This afternoon (05/20/2012), I was driving to a dinner date when I thought I spotted a Home Depot. I needed mulch for my side yard project. I made a U-turn and went back to the store. When I went to turn into the parking lot, I realized that it was a Wal-mart. I decided to continue into the lot and go into the garden department to see what types of flowers they had available at an inexpensive price. I found they had small flats of 18 plants of begonia's and sets of six 2″ pots of inpatients.
I walked around the patio to find the prices on the plants because they weren't showing. After a time, I decided to take the Begonias, Impatiens and Caladiums inside and get the prices. The clerk told me that the Begonia's would be $8 each, which was a reasonable price. I told him I would take two flats. He began ringing up the plants and when it came to the begonia's the price rang up $2. He checked the price and then he said, "It is probably because they say "Home Depot" on the handle. I had not noticed the name when I picked up the plants. I immediately told him I would be getting a third flat of Begonia's. The price was definitely right.
I am thankful and grateful that my request for help with my garden was answered. I suspect that this is just the beginning of the help I am going to have to beautify my yard.
Had I decided to not go into the Wal-mart because I needed a Home Depot, I would never have found the Begonias for the discounted price. This experience, is like having my personal secretary find what I want and then tell me where to go to purchase the merchandise. Taking action on your intuition or when opportunities present themselves is required when you ask and expect an answer. Nothing takes place in the world of manifestations if you fail to act.
Pay attention to what comes from your mouth because your wish or desire expressed will be answered.
According to your faith will it be done to you" Matthew 9:29 And it is so!
In Gratitude,
Beverly Fells Jones
The Silver Fox of Consciousness
For information about our programs,
please contact us at info@commandingyourlife.com
or Call 484.809.9017
Visit Us